League Match will be staged by Premiership Rugby as part of a
Four-year agreement with AEG in conjunction with NBC Sports
Philadelphia, PA – PREMIERSHIP RUGBY's Newcastle Falcons' are set to match up against double European champions Saracens at Talen Energy Stadium on Saturday, September 16 in a match staged by Premiership Rugby in connection with AEG and NBC Sports.
Tickets are on sale now through PremiershipRugbyUSA.com or SpectraTix.com.
Following the success of the inaugural Premiership Rugby regular season match played in the United States between London Irish and Saracens last March at New York's Red Bull Stadium, the League will again stage a match in the United States, this time at the home of the Philadelphia Union: the Talen Energy Stadium.
Philadelphia is no stranger to hosting world class rugby events. As a follow-up to the November 2013 Rugby match between USA Rugby and the New Zealand Maori All Blacks at Talen Energy Stadium, the highest attended non-soccer event in stadium history, the two Premiership powerhouses will now come together in a regular season match-up at the stadium this fall.
"Premiership Rugby is the best club league in the world and thanks to the support of our partners at NBC Sports, we are now developing a strong following in the USA. This new agreement with AEG will help take that to another level and today's announcement is testimony to our collective ambition," said Premiership Rugby's Chief Executive, Mark McCafferty.
Newcastle Falcons and Saracens have both been part of a record-breaking 2016-17 season for Aviva Premiership Rugby and now they will once again bring all the excitement, skills and intensity of the competition to the USA.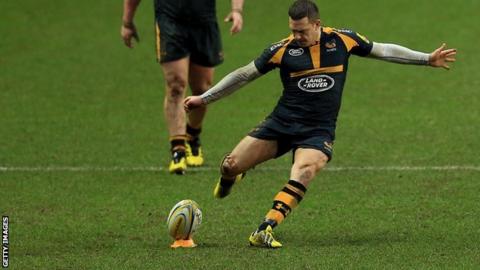 "We're delighted to be able to take two of our teams to the great city of Philadelphia – a city dominated by elite sport – for a match we know will capture the imagination of the American rugby public.  The key to staging this match in such an impressive stadium has been the partnership we are announcing for the game with AEG and NBC Sports. AEG is the world's leading sports and live entertainment company while NBC is one of the world's most prestigious media companies. This presents us with a powerful combination to help make this match a huge success," added McCafferty.
"We are very thankful to the City of Philadelphia which has already given its full commitment to the success of the match and we are looking forward to working with them in promoting rugby in the community during the lead up to the big match"
McCafferty added: "This season has marked a huge expansion of Premiership Rugby globally.  After a series of new overseas TV rights deals Premiership Rugby – and this match included – is now being broadcast in over 200 countries, reaching more than 170 million households around the world. These new viewers include a large number in the USA where this season Premiership Rugby is being broadcast – for the first time – on the world famous NBC Sports network."
The match is sanctioned by the United States Rugby Union and USA Rugby's Chief Executive Dan Payne is looking forward to seeing Premiership Rugby in Philadelphia.
"This match-up is yet another opportunity for our American rugby fans and future fans to witness, first hand, up close and personal, the product created by some of the world's top professional teams," said Payne.  "We're thankful to the Premiership Rugby, Saracens, Newcastle Falcons and our partners, AEG and NBC Sports, for providing this opportunity to the American public.
"I'm looking forward to a tremendous display of our great game that will fuel our growth plan domestically…a plan for growth in participation, overall awareness, national broadcast & commercially.  This event ticks each of those very important boxes!"
Having recently appointed former Bath Rugby back rower and captain Dan Lyle as the director of AEG's new rugby division, the world's leading sports and live entertainment company has made a strong commitment to the promotion of rugby both in the US and globally.
Lyle is one of the key men behind the multi-year agreement and the match being staged in Philadelphia. He said: "We are excited by the continued development and trajectory of rugby at all levels in the US, from the huge surge in playing numbers to an ever-growing appreciative and knowledgeable fan-base.
"We believe our long standing relationships with NBC and this new multi-year partnership with Premiership Rugby represents a meaningful next-step in developing the sport in the United States," continued Lyle.  "Bringing world class teams and players to our shores complements the initiatives and priorities of USA Rugby, including broader exposure within our country of the game being played at the highest levels."
NBC Sports presents the semi-finals of the Premiership Rugby campaign this weekend beginning on Saturday at9am. ET on NBCSN, when Exeter Chiefs host Saracens. NBC Sports Gold will present exclusive streaming coverage of the semi-final between Wasps and Leicester Tigers at 9:45am ET. Click here for more information on NBC Sports Gold's Premiership Rugby coverage.
Jon Miller, President, Programming, NBC Sports and NBCSN added: "We're excited to televise Premiership Rugby here on U.S. soil for a second consecutive year.
"Following our first full season as the U.S. media home of Premiership Rugby, September's match in Philadelphia featuring Newcastle and Saracens is a testament to the continued growth and interest in rugby here in the States."